Building a brand from scratch is exciting, passion-driven work that isn't for the faint of heart. It takes real creativity, strategy, and commitment to create something and put it out into the world, hoping it makes the impact you want it to.
In many ways, a brand is similar to a human being – it has its own personality, flair, look, and values that should be different than any other brand in the world. Like a person, a "brand" isn't defined by just one component. Instead, the collection of messaging, imagery, marketing, and customer experience create a brand. 
Our team offers services for every step of the branding process. We've helped dozens of clients along their journey to creating brands that will stand out and succeed in their markets. In this post, we've translated our years of experience into sound advice to give you a better idea of what the process entails. 
This article covers points to consider when deciding on a brand name, logo, and style guide. We then touch on the more tangible aspects of your brand: your packaging and web design. Finally, we deliver some of our best advertising advice to you, which is how most people will find and follow your brand. 
Let's get started.
Brand Naming
Naming your brand is often an overwhelming step, and for good reason. Your brand's name will hopefully become instantly recognizable at first mention, so you need a name that can stand the test of time. You want a name that stands out from the crowd and makes your customers feel right at home. 
But where do you even begin? Our advice is to look both without and within. 
First, start within. This step takes real thought and intentionality. At this stage, your startup team should be working through brand identity exercises that will shape the trajectory of your brand. These exercises may include customer research, competitor research, value proposition, ideal client avatars, brand voice development, mission statement work, taglines, messaging, and more. It's OK, and maybe even better, to work through these exercises before landing on a final name. Often, during these discussions, you fine-tune and reveal the ultimate goal and mission of your business. 
Next, look around you. During your competitor research, take notes about each of the names of businesses that are doing well in your field and those that aren't. Look for patterns, strategies, and themes. When choosing a name, you'll want to make sure that your brand doesn't sound so similar to a competitor that it gets lost in the market, but not so abstract and "out there" that you drive clients away. For example, it wouldn't be a great idea to start a new makeup brand and name it "Glossy" since the "it" makeup brand of the moment is named "Glossier." This would be too confusing and similar. 
Here are some practical tips for naming your brand: 
Keep spelling in mind. You want customers to be able to easily find you via search engine.

Check .com domains and conduct a thorough search online to make sure your name isn't already taken. Also, check for existing trademarks using a service like USPTO's

Trademark Electronic Search System

. 

Ask your family and friends to read the name out loud. Sometimes, a brand name you thought would be easy to pronounce ends up being a tongue-twister for your clients.

Ask yourself – will this name scale with my business as it grows and evolves? You may add services or products to your business down the line – does your name support that growth?
Once you've decided on a name, it's time to start building out the visual elements of your brand, such as a logo and a brand style guide. 
Logo Design
Your logo is an integral step to building your brand. This tiny digital file will play a powerful role in making your brand recognizable, trustworthy, and successful. Your logo becomes your brand's icon, and you need it to represent you well. 
Like your brand name, your logo should receive intentional thought and discussion. You want your logo to be meaningful, yet practical. Many brands lean too heavily toward one or the other. We strongly recommend that you work with a professional graphic designer to develop your logo. 
Ideally, your logo is set in stone once it's completed. This is a relief once it's finished, but can be a bit intimidating during the design phase. Since the hope is that your logo stays the same, well, forever, here are some questions to carefully consider with your graphic designer and other stakeholders. 
Do you want a logo separate from your brand's name? Apple is one example of this. On most products, Apple only includes its simple-yet-brilliant logo. FedEx is an example of the opposite strategy. Their logo and name are one and the same. 

Do you want your logo to be in color or black-and-white? Colors are an important part of building out your brand style guide (more on that in our next section), so if you want your logo to have color, those colors should align with the rest of your brand aesthetic. 

Is your logo simple enough to hold weight even when it's scaled down to a small size? Think of the Nike checkmark. Even when that mark is a tiny emblem on the tag of your clothing, you still instantly recognize it. 

Have you decided on your brand's typography? We'll touch on this in our next section, but if your logo includes text, make sure that the font is in line with the style you're aiming to develop for your brand.
You've now checked off two of the most important elements of building your brand. Once you have your name and logo complete, you can begin to establish your brand's style guide. 
Brand Style Guide
Developing a brand style guide is a key step in making your brand instantly recognizable and loved. 
A brand style guide is a document that establishes rules and best practices for the presentation of your brand in visual communication mediums. In essence, it shows how to use a brand's logo, tag lines, typography, colors, and other related design elements in a way that's consistent with the brand's identity.
So, when you task different members of your team, or when you contract outside help to complete a new project, you can feel confident that everything they produce and publish will be "on-brand" for your business. 
Generally, a brand style guide should include the following elements: 
Your brand story

Logo variations

Color palette

Typography 

Imagery

Messaging
Your brand style guide, along with your brand name and logo, set the stage for outlets in which you actually interact with your consumers: your product's packaging and your website.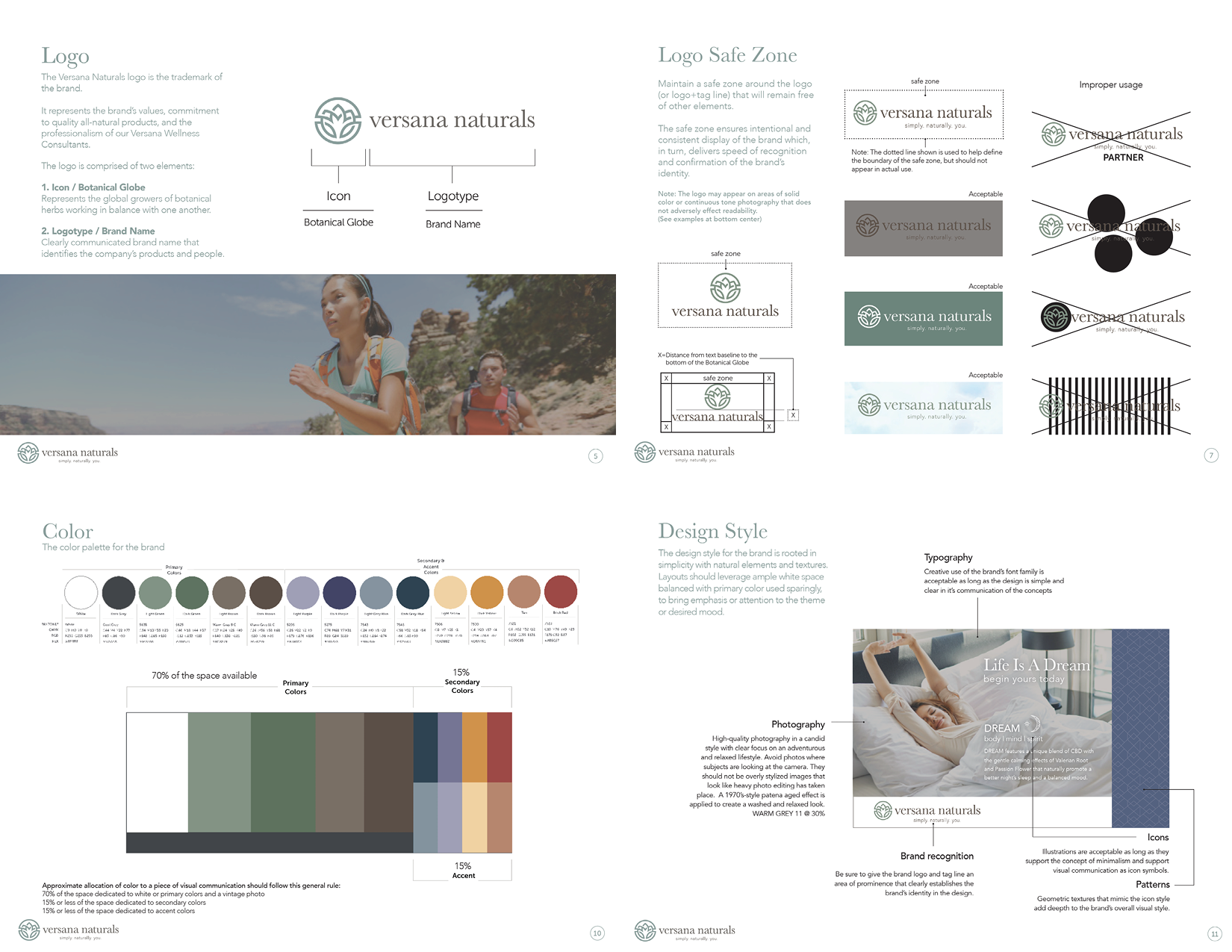 Product Packaging Design
If your business is going to sell a physical product, the packaging that you design and use is almost as important as your product itself. Your product's packaging is a powerful way to communicate your expertise, personality, and commitment to your customer.
An overwhelming number of buyers admit that they make their purchasing decisions based on how much they like the packaging of a product. 
So, how to begin? We've detailed the steps to the packaging design process in a separate post, but here is an overview of the workflow we typically follow: 
Concepting: In this step, you align your product's design with your brand identity and style guide.
The Design Phase: With your marketing and design team, develop several packaging design options, making sure they're functional and appealing. 
Revisions: Based on the first round of designs, decide which elements are successful representations of your brand and which ones need revising. Ask questions and think about the packaging from your customer's perspective. Continue adjusting the design until key stakeholders are pleased with it.
Package Printing: This step can get complicated, so it's important to do your research and seek out a printing company that is experienced and has a great rapport with customers. You want to make sure that the design you approved on a screen translates well to a physical product. Deal Design has established relationships with printing manufacturers to streamline this process.
Market Launch: This final step is key to the success of your product. Your marketing approach might include plans for email marketing, social media marketing, and content marketing. 
For inspiration, check out our blog post highlighting a few examples of companies who are leveraging the power of packaging design to build their brand.
Website Design
Your website plays an important role in developing your brand and acts as a 24/7/365 salesperson for you. It's always on and always working. Your website is truly such a great investment in your business. 
Some business owners choose to hire a website designer and programmer to build them a site from scratch. Others choose to use a web design platform (such as Shopify, Wix, or Squarespace) to design a website they will be able to edit and manage themselves. Many owners choose a blend of the two; they hire a designer to create a website for them on a user-friendly platform so that the owner can assume the management responsibilities down the line. 
Whether you're designing your site yourself or communicating what you want to a designer, you'll want to keep the following practices in mind: 
User Experience:

this should drive every decision you make. A visually interesting, beautiful site is great, but none of that matters if your user is confused about what to do, what you sell, or how to buy it. Usually, less is more when it comes to website design.

All signs point to product: 

On every page, your customers should be able to quickly find their way through your sales funnel. So, a good test before launching your site is to scroll and screenshot almost every page, top to bottom, and make sure that you can see a clear call-to-action and an easy way to access your navigation bar.

Catch them above the fold:

The average Internet browser decides whether they want to stay on a website in a matter of seconds. So, what you include above the fold on your home page is of the utmost importance. Make it clear and concise – what do you do? What do you want your customer to do?

Stay on-brand:

 This should go without saying, but make sure that your website is the "home base" for your brand's style. Use only your brand's color palette, typography, logos, and messaging. 
Check out a few examples of eCommerce websites that have nailed the blend of beautiful and functional. 
Digital Advertising
At this stage, you've done the hard work of concepting your brand (the name, logo, and style guide) and you've created the two most important elements of your brand (your packaging and your website). Now, it's time to make sure that your ideal clients see all the hard work you've done and fall in love with your brand. 
How do you do this? One of the most efficient ways is through digital advertising. 
Digital advertising is the process of promoting your brand's content or product to potential buyers through a digital platform like an app or website. Digital advertising usually costs money upfront, but it provides you with powerful tools to target your ideal customers.
Digital advertising eliminates the need to market to the masses. In digital advertising, your business can advertise to as specific an audience as you'd like. 
How?
Using data collected by search engines, web browsers, and social media companies, you can study the browsing, reading, and shopping habits of your customer base and then appeal to their needs and desires confidently. 
There are three main types of paid digital advertising: 
Social Media Ads – using data collected from social media companies, you can advertise on your customers' feeds according to their interests or demographics.

Search Engine Ads – using data collected from search engines like Google, your business can pay to have your site ranked highest for various keywords and searches. With proper research, this can be a very efficient way to appeal to the perfect customer, someone who is

actively looking

for your services.

Display Ads – these ads are displayed to the right, left, top, or bottom of third-party websites. The goal is to catch the attention of a customer when they're shopping or browsing online. 
Many businesses use all three of these advertising streams to market their brand. Others start with one and build from there. The main question to ask yourself is, "Where do my customers spend most of their time online?" 
Once you've decided how you want to spend your advertising dollars, you'll need to make sure that you have a plan for how you'll measure the success of your campaigns. Whichever platform you purchase your ads through will provide analytics and reporting.
To measure the effectiveness of your campaigns, you'll want to track a few key metrics:
Reach: How many people did you "reach" with your ad? This is a good place to start to make sure you're focusing on the platforms where your customers are spending the most time.
CTR: Click-Through Rate – How many people actually clicked on your ad? This shows warm leads – interested buyers. The higher the CTR, the more successful the ad. 
ROI – Return on Investment: This is an important number to assess with each ad campaign you run. How much did you spend on the ads versus how much you made? Tracking this number will help your business to be scrupulous in its decisions about advertising.
Social Media Marketing
No matter what type of brand you're starting, you'll need to have some sort of social media presence. The scope and consistency of your social media marketing will vary by industry (a plumbing company wouldn't need to post as much as a marketing firm), but no matter what you do, you need to have a plan for presenting your business on social platforms.
So, the first step your team should take is to decide what your goals are for social media marketing.
These goals will dictate how you spend your time and resources and will determine which platforms and content styles you'll use. Your goals could include one or more of the following examples: 
To increase overall brand awareness for a newer business

To increase followers in a particular demographic

To increase engagement with your existing followers

To see a specific increase in revenue for one or more of your products
Next, it's time to find your clients online. This step is key because it will allow you to work smarter, not harder. 
Before you put together your actual marketing plan, you need to learn the patterns of how your target audience spends their time online. So, narrow down your audience to an age range, gender, or other demographics (for example, "young moms" or "highly educated middle-aged professionals"). Then, find out what platforms and content style each audience interacts with the most. 
Once you've set your goals and identified your audience's social media habits, you can begin creating a content calendar to organize and simplify your action steps for a chosen amount of time. Some businesses plan one month at a time, while other brands plan anywhere from 6 months to a year in advance. 
Decide which metrics you care most about. Is it likes? Click-throughs to your website? Comments? Audience reach? Sale conversions? 
Pick your metrics and then run different campaigns at varying times of day with different text or graphics. Most social media platforms provide you with in-depth post analytics that make it easy to try out different strategies. 
Building a brand from scratch is a deeply creative, strategic, challenging endeavor that has more moving parts than you probably realized when you started. But this work is rewarding and so vital to our world. 
From the conception and drafting stages to the execution of your launches and marketing campaigns, we have services and seasoned professionals who can walk with you and your team to ensure that your brand reaches its full potential. 
Contact us to find out more about how we can partner together to create or improve your brand.
Contact Us